–
Index
.
.
---
UK Cycle Touring in Solidarity – A How To
UK Cycle Touring in Solidarity; A How To
Planning for adventure and writing up a toolkit for how to survive comfortably on the cheap whilst volunteering with activist groups and doing advocacy in communities:
.
Dumpster Diving & Foraging
Food & board for good work, couchsurfing, wild camping spots & mountain huts
Animal Sanctuaries
Mountain/Cave Rescue Groups
Activist Centres
Zine libraries, book libraries, museums & art galleries
Radio ranges; leftist, pirate & talk shows
.
Goals
Collect food and tat to distribute through Food not Bombs, Real Junk Food Projects, Foodbanks & Freegle.
Gather data – Map skipping, foraging & hitchhiking locations. Update information on campaign/communalist event calanders, location maps & tables. Take notes of resources and swap pdf libraries to update personal favorites on my hardrive and both community resource directories.
Discuss/advocate total liberation philosophy
Help restore wildlife habitat and save some foxes
Distribute, swap & collect movement leaflets & zines.
Listen to tons of audiobooks and podcasts through boneshaker headphones & read back over sections on an e-book at night
Go wild swimming, caving & hiking
See live music and swap mp3 libraries
Participate in outdoor sports & games e.g. chess in the park, ping-pong parlors, cards with strangers, kabaddi & volleyball
.
Hypotheses for creative writing
#1: It will be easier on the road to get enjoyment from study, so long as I don't reach a point where I only want to speed read volumes.
#2: The expense of not being able to spend as much time organizing in one place and to a timeschedule will be made up for in the quantity of people I can gather grassroots knowledge from and establish intellectual connections with.
#3: It would be worth sharing free food with strangers that contain animal products, but it wouldn't be worth hunting/fishing to extend the length of the trip.
.
Baggage
Touring bike, helmet, repair kit/materials/tools, lock & lights
Pannier racks, one wheel trailer, bottle cage & gadget holders
Bikepacking, pannier, trailer & roll-top dry bags
Water bladder, filter bottle, iodine & first aid kit
Wallet, sleeping bag, head torch, clothing, neck tube & toiletries
Hammock-tent with spreader bar
Lighter, stove, stove repair kit, pan, spork, knife, tupperware & condiments
128GB mp3 player with radio capability, phone, gps bike computer & hard drive
Dynamo bike charger
Bone shaker headphones or helmet/handlebar speakers & e-book
Zip locks, passport, journal + pens, sunglasses, spare batteries, sunblock, moisturizer, lip balm, insect repellent, travel towel & earplugs
Playing cards, ping pong bats + balls & 3 in 1 travel chess set
Hardcopy leaflets, periodicals & books
.
Hard drive
Personal Favorites

Articles
Spreadsheets
Video
X
X
Podcasts
Radio
Music
X
X
Books
X
X
Zines
Periodicals
Articles
Leaflets
Screenplays &
Transcriptions
.
Community Resources
Leftist
Articles
Spreadsheets
Video
X
X
Podcasts
X
X
Radio
X
X
Music
X
Books
X
Zines
X
X
Periodicals
X
X
Articles
X
X
Leaflets
Screenplays &
Transcriptions
X
X
.
Vegan
Articles
Spreadsheets
Video
X
X
Podcasts
X
X
Radio
Music
X
X
Books
X
Zines
Periodicals
X
X
Articles
X
X
Leaflets
X
X
Screenplays &
Transcriptions
X
X
.
Related toolkits
.
.
---
UK campaign groups, events & locations
List of UK campaign groups & how to keep their information updated.
Looking for food not bombs groups in the UK I found the information on the umbrella organisations website outdated, so I checked all the individual chapters pages and created an updated article.
So in cases where there's no volunteer web developer on hand I'll to try to be a point of contact for keeping information updated.
As well as creating tables, maps and calanders where none existed before hand in easily viewable share links, then sending them to the campaign web developer to host on their site.
.
.
---
Philosophical Vegan Wiki

Philosophical Vegan Forum – Full list of threads – Categorized
This Wiki has evolved from the forum as a way to focus our effort and collaborate to bring all of the knowledge and arguments together in a more structured and digestible way without having to dig through lengthy discussions, but those discussions themselves are still hosted on the forum (and are often ongoing), so that's an important way to get started.
This is a meta-activism wiki, meant as a resource for vegans and our allies working toward environmental and animal welfare ends, but it may also be helpful as an information source for anybody interested in these topics. While we're happy for non-vegans to read the wiki and be convinced of veganism, the Wiki itself is written to provide more in-depth information for people already interested in the subject rather than as outreach, and as such the tone of articles is often very different from what we would recommend for outreach (beware: some articles may be slightly snarky).
.
Individual articles
.
.
---
Freegle
Moderate and encourage others to moderate groups to provide a resource to areas of the country not yet covered & vote in animal rights policies on free animal postings.
Collect food and tat to distribute to keep groups active and encourage a cooperative economy.
.
.
---
Vegan / Left-Tube Analytics & Labelling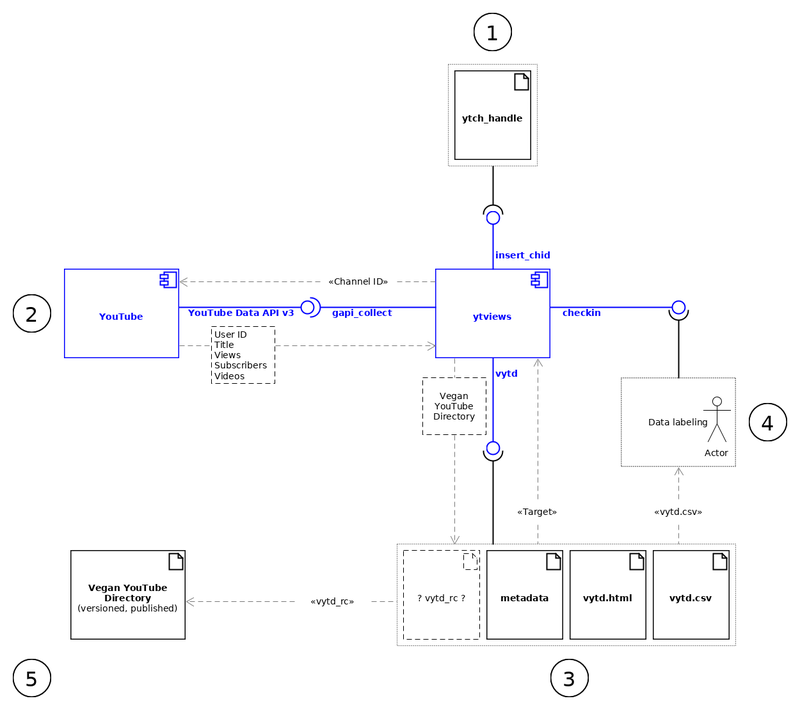 Find channels that interest you most or that you think will most chime with a friend so that you might help someone else on their journey.
Sort each table by multiple column headings and refresh the page to revert to default.
For an ideal future finished format wiki page for tracking audience interest in veganism see Vegan YouTube Analytics.
To help fill out the directory see this instruction manual for data labeling; Vegan YouTube Directory – Updating Process.
Finally documenting channels & primary content type helps us produce outreach pamphlets and articles for the vegan video resource library with pictures, previewing 3 video titles per channel, like an introduction to vegan youtubers or an article on vegan musicians.
.
Left-wing YouTubers are organizing to offer support to small creators who are people of color and underrepresented in video media.
Most vegans are left-wing and find that there are many campaigns we can work on together to get closer to both our desired goals. For more information see our page on Common Allies.
To help fill out the directory see this instruction manual for data labeling; LeftTube Directory – Updating Process.
Finally documenting channels & primary content type helps us produce articles for the Anarchist/Socialist Community Directory such as a page on Anarchist/Socialist Video Channels with pictures and 3 example video titles per creator.
.
.
–